Safety is always the first task in the workplace. In particular, safety at height requires the attention of both employers and workers at all times. The dangers of working at height are everywhere and are almost always fatal. It only takes one mistake for what could be an ordinary job to turn into a terrible accident.
Here is a list of work-at-height safety tips to help companies better protect their employees at heights.
Safety Tips For Working At Heights
To ensure safety at heights, it is vital to follow safety protocols. Whether workers are working at heights using ladders or scaffolding equipment, these guidelines will help ensure that the job is done efficiently while keeping everyone out of harm's way.
1. Use Railings
The use of railings is the most basic safety protection at height and the most convenient fall protection system. Passive guarding is the easiest way to keep workers safe and achieve compliance because they don't have to actually do anything to keep themselves safe.
Railings can be constructed on the job site, but most often companies choose to purchase prefabricated railings from manufacturers and install them. Railings can be either permanently fixed or portable, depending on the specific environment of the workplace. But whichever one you use, make sure they meet the requirements of safety rules.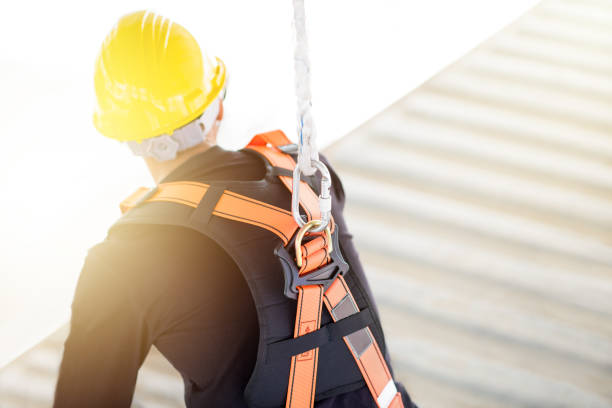 2. Select the Proper PPE
For safety at height, the most important protective equipment is a personal fall protection system. However, when used, it is important to ensure that the right equipment is selected for the worker. All ANSI-compliant full-body harnesses perform the same, and the differences in brand and price may be more in the comfort level.
If there are workers welding at height, then a standard nylon harness may not be what they need. Maybe Kevlar is the right choice. Safety harnesses are not one-size-fits-all. Make sure your workers are able to adjust their harnesses sufficiently so that they fit properly.
In addition to fall protection systems, safety at height also involves other personal protective equipment. Examples include safety helmets to protect workers' heads, non-slip safety shoes, and reflective safety vests, to name a few. Every situation is different, so employers need to evaluate working conditions and tasks to give employees the PPE that will protect them.
3. Inspect the PPE
Although protective equipment are strictly manufactured for safety, they can fail at any time if not properly inspected and maintained. The safety harnesses and lanyards worn by workers should be checked for condition before each use, but they should also be inspected periodically during the week to ensure they are in good condition.
The check should be thorough, but it doesn't need to take a lot of time. This brief pre-work inspection may save a life.
4. Safety Training
If employees are to work safely at heights, they must receive adequate safety training. This cannot be stressed enough. Not only is employee safety training required by law, but it is also difficult for someone without the knowledge to protect themselves at heights.
Falls are a fatal accident in the construction industry year after year. In most cases, there is no do-over. Arm your employees with the knowledge they need to keep them safe.
Safety at height is not a simple matter, it requires adequate preparation. With this height safety tips we have compiled, we hope to help every employer in need. T-safety is a professional PPE manufacturer. If you have any questions, please feel free to contact us.