What Are Safety Shoes?
Safety shoes also are known as steel-toe boot, steel-capped boot or steel toecaps is a durable boot or shoe that has a protective reinforcement in the toe which protects the foot from falling objects or compression.
How Many Types Of Safety Shoes Are There?
(1)safety shoes for truck driver
Truck drivers spend many hours driving, so footwear needs to be comfortable all day. while, they also need to be durable to stay safe during pre-trip inspections, while unloading freight and in a wide variety of weather conditions.
the best work boots for truck drivers need to have the following features:
safe and durable: like Leather uppers.

safe and dry: Oil-resistant and waterproof.

better non-skid grip: Slip-resistant soles.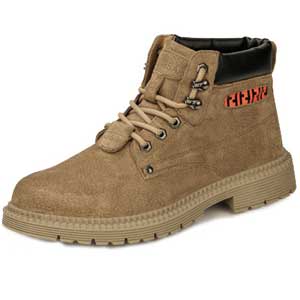 Brand: T-Safety
Model Number: S08103
Rubber sole
Shaft measures approximately 7 from arch
Durability: It's the best choice for truck drivers. Rubber outsole delivers stability on walking any kind terrains
Break-In Free: Soft leather takes the pain out of breaking into a new pair of work boots. No more wanting to take off your boots while working. Insole Removal option offers custom insole of your own to ensure ultimate comfort
Comfort Easy Wear: PU Insole provides maximum comfort to your feet and long stand hours. Speed hooks make it easy to put on or take off. Steel shank alleviates pressure when climbing downstairs or ladders
Sizing: Our width is between regular and wide.
(2)work boots for electricians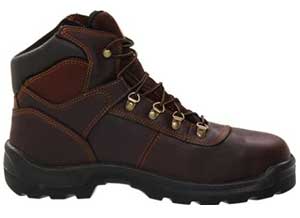 These work boots have thick soles to insulate from power lines.
They ground your body. This means that the electric charge passes through to the ground immediately.
Electrician work boots are engineered to protect from electric shock of up to 18000V for a minute. Polyurethane, plastic, carbon fiber, rubber, etc. are insulators.
This means if the foot comes in contact with a live wire. The current will stop at the point of contact and the shoe will ground it. These boots also dissipate the buildup of static charge.




(3)work boots for welders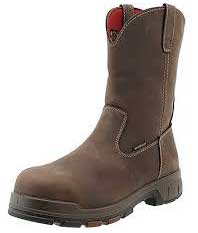 Welding safety boots allow you to work longer hours without experiencing discomfort and pain.
While welding, you are at risk of cuts, electric shock, fractures, burns, and getting your feet crushed.
By wearing protective gear, you reduce your risk of personal injury significantly.
In the case of an emergency, they will also give you an extra kick and offer protection while you take precautionary action to ensure your safety.


(4)work boots for roofing
The best boots for roofing are comfortable, good traction has excellent arch support, and provide safety to the user. Pay attention to the quality of the outsole. The bottom of the boots should be thick and made of a high-quality rubber or synthetic material. For a shoe to be comfortable as well as safe, proper arch support is necessary.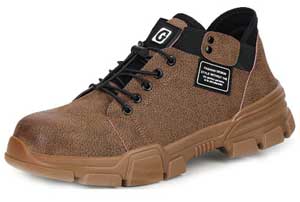 Model Number: S08102
The soles are slip-resistant and shock-resistant to keep you grounded.
The exterior portion of the work boots is made from durable leather.
Inside, the boots are very classic and minimal. Aside from some light lining along the collar and footbed, the boots are bare.
This can help to decrease weight.




(5)safety shoes for construction
On a construction site, your health and safety are largely dependent on the work conditions. Buying a great Work Boot ensures that you take your work safety seriously and hence, you must be very rational before you make the purchase. Questions to ask yourself before you choose a Work Boot.
Do you work in a slippery environment where moisture and oil are involved?
Is your work field littered with penetrable objects that can cause injuries?
How prone is your toe to an injury due to a falling or a rolling object?
Does your work use chemical substances or acids?
What are the temperatures that you work in?
Steel Toe Work Boots

Alloy Toe Work Boots

Composite Toe Work Boots

Insulated Work Boots
Choose the outsole
TPU and Rubber outsoles should be the common materials on your choices. TPU stands for Thermo Polyurethane and is among the safest bets if you will be doing a lot of walking on slick or abrasive surfaces. This material is oil and water-resistant as well as stands up well to abrasion. Rubber outsoles are the most common materials. Rubber is relatively inexpensive but is also water, oil, and abrasion-resistant. Both of these materials provide that traction and grip that is highly valued among work gear.
Consider the insoles
In most cases, work boots come with a stock insole for general use. according to your foot shape in terms of width or arch, choose different insoles.
Sole construction
The way the outsoles are attached to the upper part of the boots and the shaft. cemented boot sole construction is relatively lightweight and causes less fatigue when you use it for prolonged hours. A stitch down construction sole means that even if the soles wear down from use, it can be easily replaced. This extends the life of the work boots.
(6)work boots for oil and gas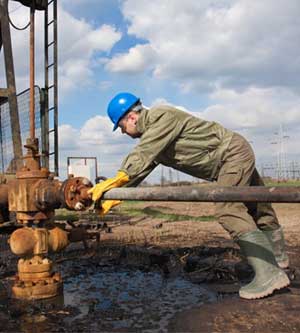 There are about 65,100 oil fields in the world — and all of them are necessary to ensure our cars, trucks, and planes get to where they need to go.
And the oil field workers are the ones keeping those rigs running.
That's why you need the best oil field boots to keep up with the demands of working in such a tough job.
If you work at a rig, not only requires you to stand on your feet all day, but you could be pouring lots of liquid on your feet as a result of your job.
That's why you need boots that are waterproof and durable but still comfortable enough to wear all day.










(7)safety shoes for mechanical engineers
a flexible outsole (of PU or TPU) is highly recommended, Generally, the resistance to water infiltrations is not necessary for some work, but breathability is a must. A breathable product is a great choice in this case, such as suede leather or textile non-water resistant steel toe shoes.
you'll need regular and comfortable safety shoes, therefore a good insole, a sole made of PU/TPU and water-resistant leather are vital characteristics to do your best work.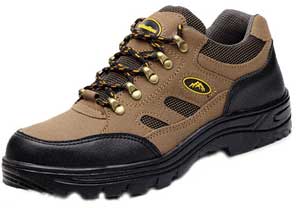 so the Safety Shoes for mechanical Engineers needs including the following features:
Water-resistant upper;
Protective toecap;
Puncture-resistant outsole;
Extreme resistance to abrasion;
Metatarsal protection.
Slip-resistant safety shoes.
(8)safety shoes for restaurants/kitchen staff/ chefs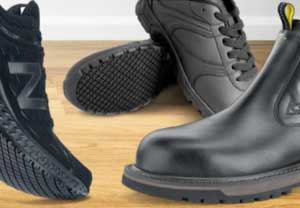 Working in a kitchen means longs standing hours on your feet and so having the best kitchen shoes you can get is important.
Chef shoes should be practical and functional and provide the comfort and protection you need in this type of environment.
you can pay attention to the shoes non-slip, the durability of the shoes as well as the fit, the inner of the shoes, the padding and comfort levels it has to offer.






(9)steel toe shoes for plantar fasciitis
If you're one of those workers who suffer from plantar fasciitis, ordinary work boots can amplify your pain. You must be aware of the vital features footwear must possess to accommodate your medical condition without causing any extra injury.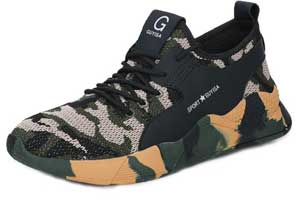 Material
Work boots must be equipped with different top-quality materials that fight against plantar fasciitis. Leather, mesh fabric, memory foam, steel, and suede are utilized to construct such a boot.
Comfortable
The boot must have flexible and supple mid-sole and insole to prevent further aches and must be able to sustain the whole bodyweight all day. Usually, these work boots will contain deep-molded heel cups which can give you well-cushioned comfort.
Safety
Not only should a work boot be easy to wear, but the factor of safety also shouldn't be overlooked when you're suffering from plantar fasciitis. Look for a work boot that contains an insole and outsole that provide a greater level of shock absorption.
What is the OSHA standard for safety shoes?
The employer shall ensure that each affected employee uses protective footwear when working in areas where there is a danger of foot injuries due to falling or rolling objects, or objects piercing the sole, or when the use of protective footwear will protect the affected employee from an electrical hazard, such as a static-discharge or electric-shock hazard, that remains after the employer takes other necessary protective measures.