Why You Need A Safety Glass
Safety glasses are spectacles or goggles worn to protect your eyes and are an item of PPE (Personal Protective Equipment). Goggles, or safety glasses, are forms of protective eyewear that usually enclose or protect the area surrounding the eye in order to prevent particulates, water, or chemicals from striking the eyes. They are used in chemistry laboratories and in woodworking. They are often used in snow sports as well and in swimming. Goggles are often worn when using power tools such as drills or chainsaws to prevent flying particles from damaging the eyes. Many types of goggles are available as prescription goggles for those with vision problems.
Why is it essential to wear safety glasses?
You should wear safety glasses as they are the best way to prevent eye injuries. They protect your eyes from potential hazards at work, at home, and outdoors. Overall, safety glasses can save businesses and workers a lot of time and money. Similarly, wearing safety glasses can have a significant impact on overall long-term eye health. OSHA requires the use of ANSI Z87.1 certified safety glasses and requires employers to provide appropriate eye protection for special hazards associated with any task. OSHA's standards and requirements ensure the safety of all employees in the work environment.
Safety glasses prevent a variety of hazards.
Harm involves any potential hazards or risks present in the workplace, at home, and during the entertainment. These threats include physical, chemical, and biological hazards.
Eye hazards exist in every workplace, but some jobs are at higher risk than others.
<ul
More than 40% of workplace eye injuries occur among craftsmen such as plumbers, repairers, carpenters, and mechanics.

Approximately 33 percent of the cases occur in equipment operators such as assembly and grinders.

Almost half of all injuries occur during the manufacturing process.

More than 20% of the construction work took place.
What are Z87 safety glasses?
The American National Standards Institute (ANSI) is an independent testing organization that issues safety ratings that are approved by OSHA. Z87.1 is the rating for all safety glasses. This means the glasses meet the ANSI rating and are acceptable at any worksite or where safety glasses are required.
What is the difference between z87 1 and z87 2?
"Z87 +" means high impact rating, and "Z87" only means basic impact rating.
z87-2 safety glasses have a higher impact value than z87-1.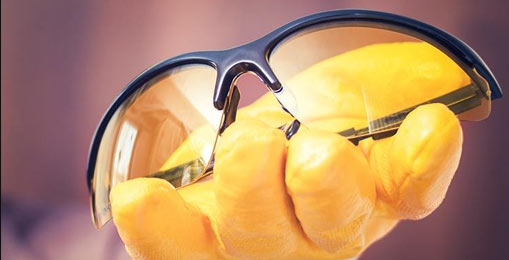 safety glasses rating:
Four possible frame strength ratings protect you from the following:
S: Impact of a small object traveling at a speed of 12 meters per second
F: Impact of a small object moving at a rate of 45 meters per second
B: Small objects with a striking velocity of up to 120 meters per second
A: Small objects with an impact speed of up to 190 meters per second
T: Suitable for use at extreme temperatures
There are four possible styles and protection levels available:
3: Liquid Splash Protection
4: Prevent dust particles above 5 microns from entering
5: Prevent dust particles below 5 microns from entering
8: Short-circuit-resistant arc
9: Heat-resistant solid stomatic
There are five possible radiation protection levels available:
2: UV protection with a color filter, may change color recognition
3: UV protection with transparent screen for proper color recognition
4: Protect with an infrared filter
5: Prevent the sun from shining
6: Use an infrared filter to protect against sunlight
There are four possible levels of light transmission that allow the following amount of light to pass through the lens:
1.2: Between 74.4% and 100%
1.7: Between 43.2% and 58.1%
2.5: Between 17.8% and 29.1%
3.1: Between 8% and 17.8%
Consider this, goggles with low light transmission should be used in very bright environments, while goggles with high light transmission are suitable for comfortable lighting.
Optical quality classification
Optical mass is divided into three levels, each referring to a different ocular category:
1:1 level - high quality, regular use
2:2 level - occasional use of medium quality
3:3 - Rare low quality
Safety Glasses and Protective Eyewear
T-Safety Safety Glasses contains so many styles glasses; You can find Anti-Fog Safety Glasses, fashionable safety glasses, dustproof safety glasses, and high impact safety glasses, just to name a few. You can also use the product filters on this page to narrow your search even further. If you're still feeling overwhelmed with all the choices or have any questions at all, don't hesitate to contact us via our Online Contact Form. If you want to know about Prescription Swimming Goggles, You can also contact us.