Best Auto Emergency Kit
Every day driving on the road may encounter some emergency situations, if you are prepared in advance, some minor problems can be easily resolved or reduce your injury. Let's take a look at what the best car emergency kit should contain?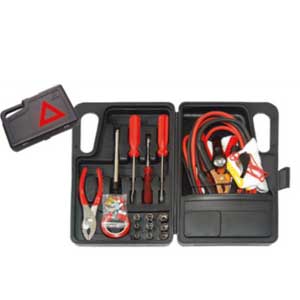 Snow Shovel:
The snow removal shovel is a shovel specially designed for removing snow from cars. The snow removal shovel in the car emergency kit is light and does not occupy any space, and can easily remove the snow on the windshield. You can have a clear vision to drive safely.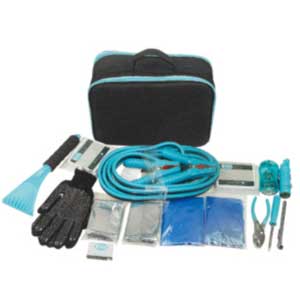 Emergency Blanket:
A space blanket is also known as Mylar blanket, emergency blanket, first aid blanket, safety blanket, thermal blanket, weather blanket, heat sheet, or shock blanket is an especially low-weight, low-bulk blanket made of heat-reflective, thin, plastic sheeting.
Emergency thermal blankets are a staple of emergency first aid personnel, wilderness rescue responders, search and rescue teams as well as CERTs. As they are capable of a multitude of other uses, the blankets make the must-have list when putting together 72-hour and first aid kits. The blankets work to keep you warm by professional design and it against heat loss through convection. Wrap the blanket around exposed skin and you have a windbreaker to keep that breeze from blowing across your skin and whisking the heat away.
LED Flash Light:
These flashlights are capable of casting light up to 1,000 feet away and offer five different settings high, medium, low, strobe, and SOS. They're super compact and water-resistant, so you can keep one in the car, one set of batteries last around eight hours.
Rain Coat
Emergency raincoat keeps you covered when you need it most. Featuring clear water-resistant material, the raincoat is perfect to keep in backpacks, purses or messenger bags, One size fits all.
First Aid Kit
Many people keep a small first aid kit in their car for emergencies. It's important to have a well-stocked first-aid kit in your car so you can deal with minor accidents and injuries.
A basic first aid kit may contain:
plasters
sterile gauze dressings
bandages
safety pins
disposable sterile gloves
tweezers
scissors
alcohol-free cleansing wipes
thermometer (preferably digital)
painkillers
Booster Cable
Glove:
When you need to fix the car, a pair of gloves can keep your hands clean and tidy, so as to avoid getting dirt everywhere.
Tyre Pressure Gauge:
A tire-pressure gauge, or tire-pressure gauge, is a pressure gauge used to measure the pressure of tires on a vehicle.
Screwdrivers
A manual screwdriver is a tool used for screwing (installing) and unscrewing (removing) screws. When your car breaks down on the road, maybe a screwdriver can resolve the crisis, successfully re-start the road or drive to a nearby garage.
Whistling
The whistle is used to warn of an emergency or to let people around you find you faster.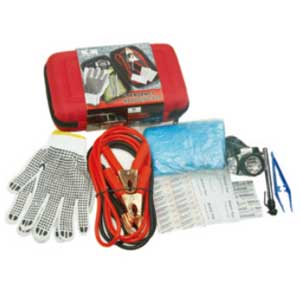 Now, all you have to do is check out the best emergency kits for you, Just like the proverb says, you can be prepared to avoid suffering......