Do You Know How To Choose Welding Helmets? Learn From These Simple Tips
1.Helmets For All Types Of Welding
As a welding helmet supplier , t-safety carries an assortment of welding helmets for all different types of welding:
Tig welding

Mig welding

Stick welding

Real gear welding

Flux core

Plasma cutting

Torch cutting
2.Welding Lens Material: Polycarbonate Or Glass Materials
There are some differences between glass and polycarbonate welding lenses.
(1)Polycarbonate is generally not available in flat welding plates, so usually, it's not used in welding helmets, masks, or goggles, whereas glass is available in flat or curved lenses.
Polycarbonate's optical quality is significantly lower. Polycarbonate welding lenses are very cheap, making them more affordable than glass lenses.
Polycarbonate is amazing impact-resistant and shatterproof. If you drop polycarbonate welding lenses, they will not break.
(2)Glass welding lenses come as flat welding plates, flat lenses, and curved lenses, making them available in more frame styles and helmets.
Glass welding lenses are produced in as many shades, so your shade selection is more if you go with glass.
Glass welding lenses are made of glass, so it is easy to break.
Glass welding lenses are more scratch-resistant and have excellent optical quality; the glass lenses will last much longer.
3.Where To Buy Welding Helmets
As an industrial welding supplier, T-safety provides welding shields and helmets, give you welding helmet protection, and provide custom welding helmets for sale.
Here are some best value welding helmets: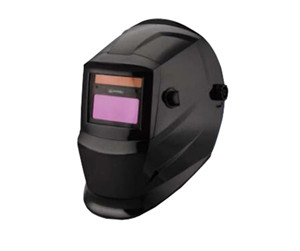 (1)Auto Darkening Welding Helmet With Grind Mode
For many welding operators, grinding is a time-consuming and large — but necessary — part of the welding process. Some newer helmets offer a grind mode, which is a good option when the grinding is mostly post-weld cleanup work. With an external grind control option, the push of a button or flip of a switch puts the helmet into grind mode. It adjusts the lens, which helps improve productivity and safety since there is no need for the operator to remove the helmet to make adjustments.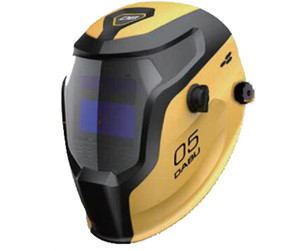 (2)Auto Darkening Solar Powered Welding Helmet
The Auto Darkening Filter enables welders to adapt to various working environments by controlling the shade of the lens; Sensitivity adjustments from ambient lighting sources; Battery powered with solar panel technology for longer life.
Fit to automotive, construction, and food & beverage manufacturing, metal production and fabrication, military maintenance, repair and operation, mining, oil and gas, transportation, etc.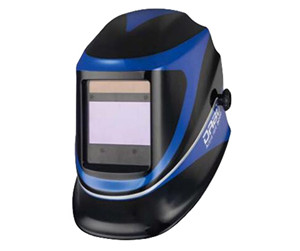 (3)Awesome Welding Helmets
Already spent your budget on the best welder and left the helmet as an afterthought? Don't worry, the next one you can afford, lightweight, makes this helmet much more comfortable when wearing it for long periods. With variable shade levels from 5-13, you'll be equipped to work in any light conditions, with any welding.
(4)Battery Powered Auto Darkening Welding Helmet
The great advantage of the battery-powered auto-darkening welding helmets is the fact that it doesn't take long for their batteries to charge. They are two major types of battery-powered helmets in the market, such as lithium or alkaline. The welder can have complete control over how much power the welding helmet is going to consume. The on/off switch is usually placed near the lens, the welder can use to save the energy of the battery.